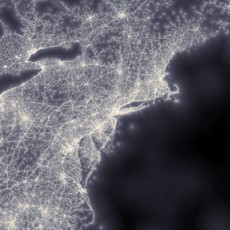 Uncategorized • December 4, 2018
To me, as a kid, McDonald's was a monolith: immutable and, barring an act of God, indestructible. After St. Peter let you pass through the Pearly Gates, he'd bop down to the local Micky Dee's, mow through the super-sized #7 meal, and grab a soft-serve vanilla cone for the road.
MORE →
Data Pointed
is the home of Stephen Von Worley's data visualization research; a journal of interesting information imagery and news from around the world; and a place where you can spend a few minutes, have a laugh or two, and discover something new.
Learn more!
We love to mine, smelt, purify, and otherwise manipulate data. Please take a gander at some of our classic
visualizations
:

I'm an incorrigible data hound. So, once the tempting aroma of XKCD's color name survey results tickled my nose, I had no choice – but to run to the dining room, stand up on my hind legs, and yank that statistical top sirloin off the table. Om nom nom yum yum yum!
MORE →

If you're one of the fortunate few who's successfully completed a typing class, dance those ballerina fingers across the keyboard, you lucky devil!
MORE →

Imagine, if you will, the burger force – a field of energy radiating from every freshly-cooked patty, earth-penetrating and inverse-squared with distance, that compels the hungry carnivore to seek out and devour the well-done ground beef at the source.
MORE →