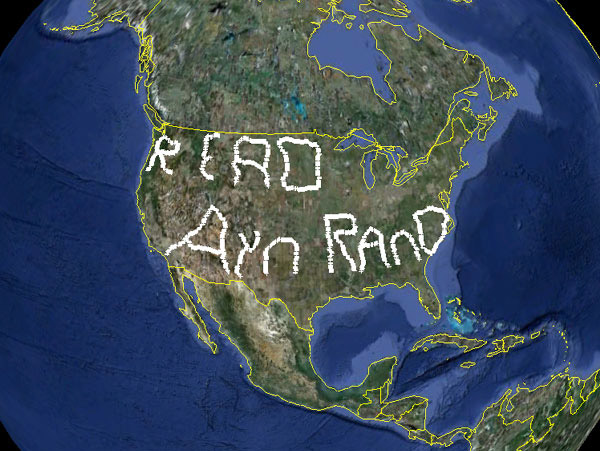 Nick Newcomen – a man with a love of Ayn Rand – had a fine plan. So, he charged his GPS logger, gassed up the car, grabbed an atlas, and started to drive across America. 30 days, 30 states, and 12,328 miles later, he completed his masterwork: a virtual message traced by his path across the nation (pictured above)!
Some people might call it "a stunning tribute to the power of an idea." Others, "an insane undertaking worthy of honorary induction into the Stalker Hall Of Fame!" And more than a few would say something like: "Ayn Rand? Isn't she that poor Jewish girl who kept the diary during World War II? Yeah, that'd be good reading."
As for Yours Truly, I'll describe Nick's achievement as impressive and refrain from further comment, lest I inadvertently bumble into the path of his speeding shit list.
Now, imagine… You've got an audience of millions and eleven letters to work with. What would you spell?
Learn more about Newcomen's message and view video evidence on his site, World's Biggest Writing.