Fans of the bong – and anyone interested in black market economics – might enjoy the Price Of Weed, a crowd-sourced database of what people pay for marijuana throughout North America: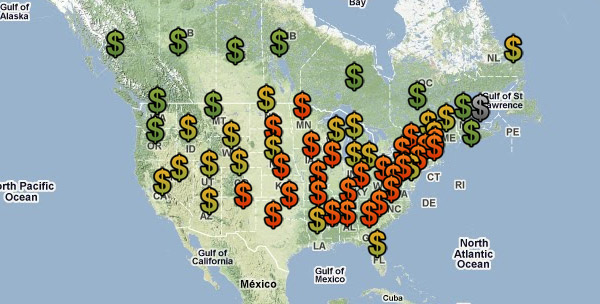 Their interactive price map (pictured above) shows a textbook supply-and-demand pattern: ganja costs less where it tends to be grown – coastal Canada, California, and the Pacific Northwest – and more at the urban centers of consumption back East. In British Columbia, an ounce of high grade goes for a bargain-basement $210 US, three hundred clams cheaper than in Washington D.C.!
The Price Of Weed's map currently aggregates prices by state, but as more data rolls in, we eagerly anticipate the ability to drill down to metro level. When buying pot, location matters, and the cost of the Governator's Sacramento quarter could be completely different than what Snoop Dogg pays for it in LA.
So, if you've scored some bud lately, don't bogart the details. The Price Of Weed can't continue to keep dealers honest without the generous contributions of viewers like you!