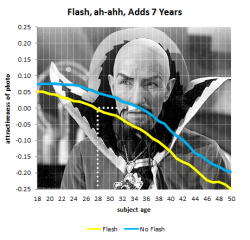 Trolling the Internets for love with that beautiful mug of yours? If so, you'll be interested in the latest research from online dating site OkCupid, who found that your camera – and how you use it – could be the difference between getting some and watching repeats of Cheaters.
In a nutshell, OkCupid asked a simple question, 11.4 million times over: Which person in two randomly-paired profile photographs is more desirable? Then, via some crafty analysis, including the EXIF data of said photos, they came up with these pointers for pleasing pics:
Avoid cameraphones and lo-fi point-and-shoots like the plague.
"The flash adds seven years." (OkCupid's graph pictured above)
Shoot wide open to make yourself pop!
Harness the power of Golden Hour.
iPhone users have more sex.
Learn more on OkCupid's always-entertaining blog, OkTrends. (Hat tip beej!)