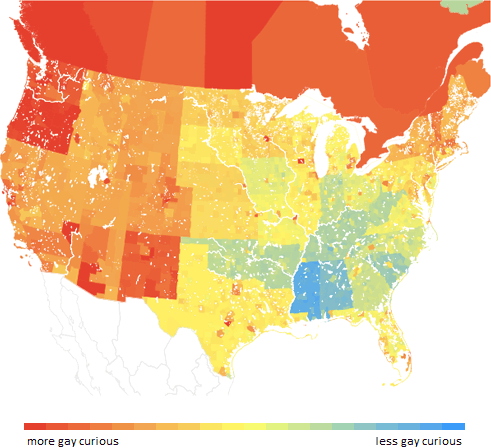 Once again, OkCupid hits sociological paydirt – this time, by mining their 3.5-million-strong userbase to explore the nooks and crannies of sexual orientation. Above, they give us the lay of the land in their map of Who's Gay Curious In The U.S. & Canada:
Awesomely, the mountain West lives up to its Brokeback reputation, and Canada is orange nearly coast-to-coast. Even in the yellow and blue areas, you can see pockets of gay curiosity in interesting places: Austin, Madison, Asheville. Anywhere soy milk is served, basically.
To see the full set of charts in all of their flaming glory, do take a peek at OkCupid's Gay Sex vs. Straight Sex.